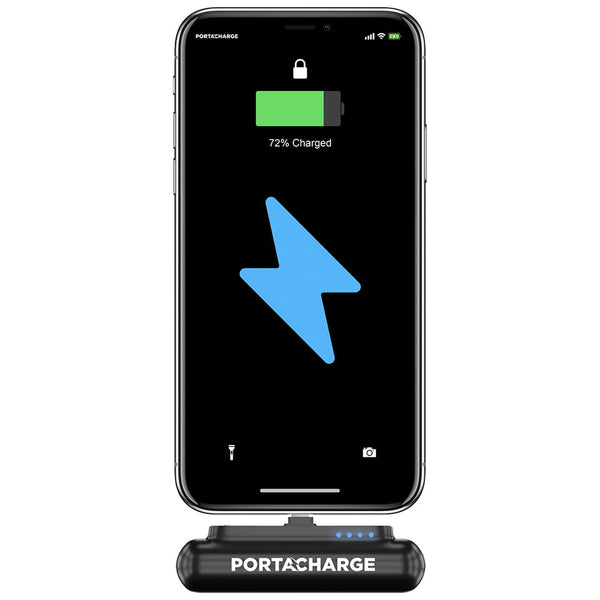 PortaCharge® One
100% Satisfaction Guarantee
Free Shipping from Ohio
Works with ANY Mobile Device
Arrives after New Years
THE LAST CHARGER YOU'LL EVER BUY!
WE GUARANTEE IT.
PortaCharge® Works With
Tired of your phone
dying

at the worst times?
Take control of your battery life with a single snap of PortaCharge®

Stop worrying about where the closest outlet is, or how long that 1% will last you.
SAY
GOODBYE

TO CABLES
Our simplistic wire-free design guarantees you will never deal with annoying messy wires again. EVER.
CHARGE
ANYWHERE

,
AT

ANYTIME
Imagine the freedom of charging your phone without being stuck next to a wall outlet.

Carry PortaCharge® in your pocket, purse or bag anywhere & everywhere you go!
BUILT-IN
SMART

PROTECTION
With our integrated intelligence chip, PortaCharge® will charge your device 50-75% at a time.

This safeguard technology offers protection against harmful battery overcharging & overheating.

Studies show it is best to begin charging around 20% and stop near 80% for optimal battery longevity.
COMPATIBILITY CHECK
Will PortaCharge® work with your phone?
iPhones? Yup it works.

Androids? Yes those too!

PortaCharge® comes included with 3 different phone adapter tips.

These tips are magnetically interchangeable, and cover nearly every phone currently on the market.
Included Adapters:
Lightning
Compatible with iPhones, iPads, AirPods and other Apple products.

Type-C (USB-C)
Covers newer Android phones, tablets, MacBook laptops, Nintendo Switches and more.

MicroUSB
Works with older Android phones, tablets, gaming controllers, wireless headphones and more.
WHAT'S
INCLUDED?
• 1x PortaCharge® v1.0
• 3x Magnetic Device Adapters
(Lightning, Type-C & MicroUSB)
• 1x USB Recharging Cable
• 1x Adapter Removal Tool
• 1x Keychain Ring Attachment
We're proud to have over 50,000 happy PortaCharge customers charging throughout the USA. We stand behind our product, and offer a 100% satisfaction guarantee.
UPDATE
Due to huge demand we are officially on backorder for this product, please place your preorder today to secure a charger from our next batch! Backorders may take 30-60 days for us to manufacture and ship out of our warehouse to you. Once shipped, your package should deliver within 3-5 business days.
Our Customer Ratings
See why thousands have made the switch to PortaCharge®